I've created a Zotero translator for the Libraries Tasmania catalogue. Using it, you can save metadata and digital resources to your own research database with a single click. Libraries Tasmania actually has three catalogues rolled into one – the main library catalogue, the Archives catalogue, and the Names Index. The translator works across all three. Features include:
Select and save items from a page of search results.
Save individual items across the full range of formats. (By default, individual records in the catalogue open in a modal overlay. For Zotero to recognise the item you need to click on the Permalink button and open the record on a separate page.)
Automatically download digital images and PDFs attached to records. This works when the record points to a particular page – it won't download multiple images from a single link. However, if a record contains multiple links to digitised pages (such as the Convict records in the Names Index), you'll get them all!
Fields in the Archives catalogue and Name Index that don't map to Zotero properties are saved as key/value pairs in Zotero's 'Extra' field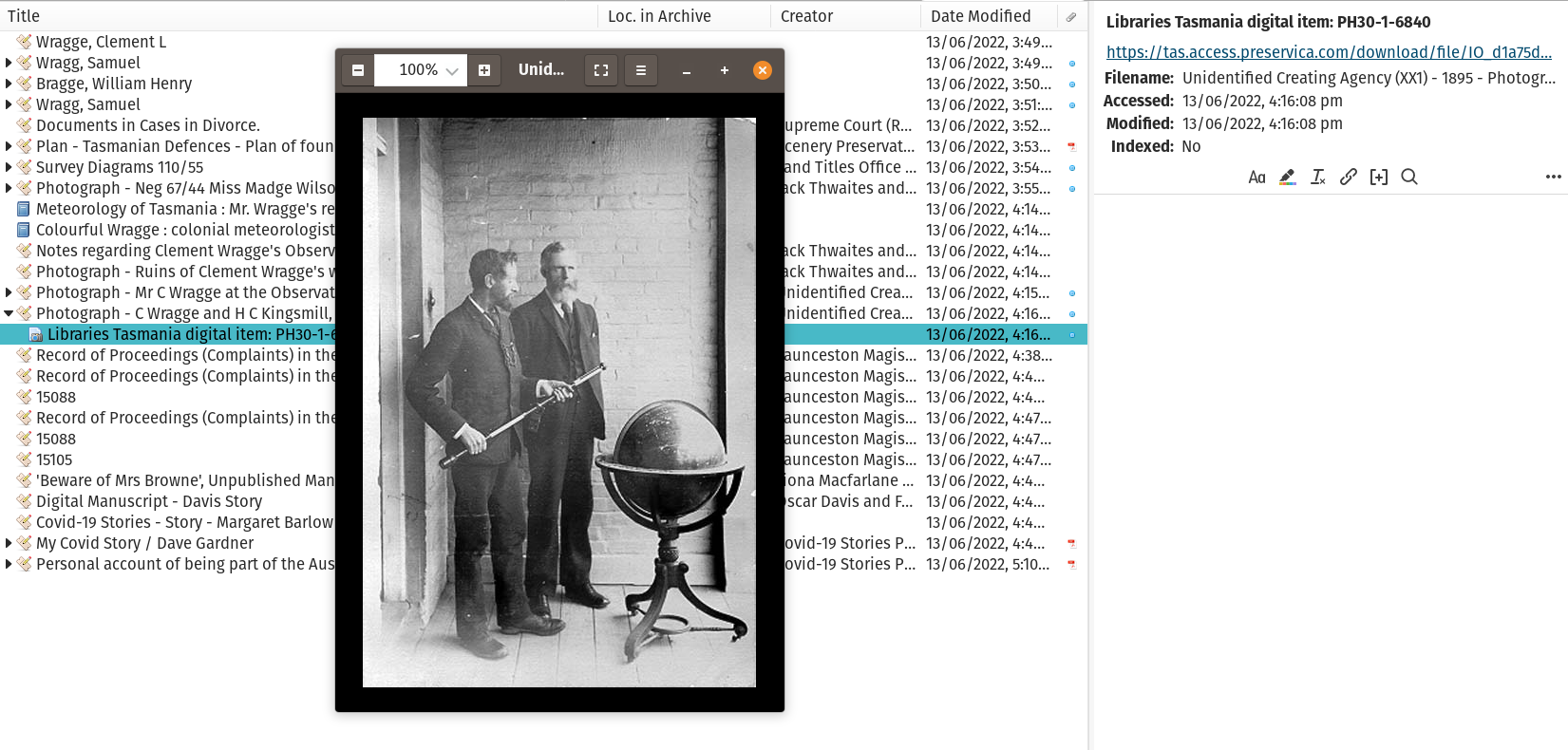 The translator is now included in the main Zotero repository so should install and update itself automatically. If the Zotero browser extension doesn't seem to be detecting Libraries Tasmania items you can force an update by right clicking on the Zotero icon in your browser toolbar and clicking on Preferences > Advanced > Update translators.
My work on this translator was not entirely altruistic – it's going to be very useful in the Everyday Heritage project as Kate Bagnall and I try to bring together sources relating to Chinese heritage in Tasmania.
But I'm also very happy to be able to update my spreadsheet of Zotero support in Australian GLAM organisations and put Libraries Tasmania in the green! #dhhacks